<![if !IE]> <![endif]>
IBIS Backwarenvertriebs GmbH
Pascalstr. 14
52076 Aachen
Germany
List of product entries
This exhibitor shows the following products and commodity groups:

Product emphasis
Fine bakery products
Trend Snacks

Trend subjects
Organic
Private label
Vegan
Vegetarian

Target and sales markets
Northern Europe
Others Eastern Europe
Southern Europe
Western Europe

Company & products
Company
Company profile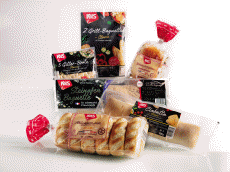 Company portraitHigh-quality assortments of bake-off goods and pastries
IBIS Backwaren is one of the major German production and distribution companies in the bakery business.
Since the company was founded in 1990, it has been our absolute passion to go on a culinary voyage of discovery in Europe's bakeries to find original specialities and new baking trends, to bring them to Germany.
Based on innovative ideas, we have continuously grown to become a strong partner in the market. We resume this success story with fresh ideas.
We have been going on culinary journeys all over Europe for our customers again and again for more than 30 years and that's why we call ourselves culinary explorer. Because we promise:
• Discovery and variety
• Enthusiasm and passion for craft baking goods
• Always on the spot, where the best specialities and qualities are to be found.
As we have strong roots in France since our origins, we offer a hot item of French specialities, top sellers as well as innovative items. We are convinced that certain baking specialities are only of the highest quality if they are produced in their country of origin. This is where the highest baking expertise is available and where the most authentic ingredients are found.
IBIS, the culinary explorer, offers a scarce diverse and high-quality range from bake-off goods and pastries with traditional specialities, as well as novel, modern baking creations. There is something for everyone. This is how we live our passion for discovery: to incorporate the diverse needs of consumers into new creations of baking goods, to offer classics at the highest quality and to seduce in culinary way with ever new baked goods.
In order to guarantee the highest product quality and the original character of our baked goods, we work with selected traditional bakers as well as young, creative minds in the gourmet regions of Europe.
IBIS - the culinary explorer
Products
Protein rolls
Pulled bread rolls
Super Grain Rolls Wholemeal Spelt / Linseed / Millet
After- work rolls with monastery beer
Panecillos classic
Pita Sticks
Mini burger buns with sesame
Double burger buns sesame
Oven-baked Baguette classic
Oven-Baked Baguette wholegrain
Stone oven-baked rolls
Chocolate rolls
Milk rolls
Milk rolls with chocolate chips
Broiche
Mini Chinois with vanilla cream
Mini Chinois with chocolate chips
Super grain rolls
Bagels classic
Bagels wholegrain
Bagels sesame
Mini - Croissants
Croissants
Kinder - Croissant milk cream
Kinder-Croissant nut-nougat-cream
Briolino
Magdalenas
Mini Cakes with chocolate cream
Mini Cakes with lemon flavour
Sandwich Baguettes brioche
Sandwich Baguettes XXL
Organic Finn Brød
Smørbrød
Lavash
Pita
Lebanese bread
Mini flatbreads classic
Mini flatbreads olive
Mini flatbreads rosemary
Panecillos garlic & parsley
Panecillos tomato & oregano
Crunchy Fruits apricots & honey
Crunchy Fruits cranberries & oatmeal
BBQ Baguettes
Ciabatta
5 Grid breads
Brioche Burger
BBQ Rolls chili & herbes de Provence
BBQ rolls
Hamburger buns
Hot Dog buns
Megaburger buns
WHAOU! Happy Rings
WHAOU! Crêpes
Lecker Bäcker Mini-Brownies
Lecker Bäcker Mini-Cakes
Madeleines classic
Madeleines raisins
Madeleines marble
Butter Stars classic
Butter Stars raisins
Butter Stars marble
Trademark
IBIS
IBIS
La Boulangére
Lecker Bäcker
Lecker Bäcker
Whaou!