<![if !IE]> <![endif]>

Helwa Wafelbakkerij BV
Doniaweg 41
9074 AG HALLUM
Netherlands

List of product entries

This exhibitor shows the following products and commodity groups:

Product emphasis
Fine bakery products
Trend Snacks

Trend subjects
Kosher
Sugar free
Vegan

Target and sales markets
Australia
Canada
Japan
Middle East
Northern Europe
Others Eastern Europe
South Africa
South East Asia
Southern Europe
USA
Western Europe

Company & products
Products
Helwa High Protein Wafer Bar containing 32% of Protein (many different flavours)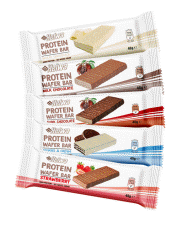 The Protein Wafer Bar has a High Protein (32%) cream filling, enrobed with milk, white or dark chocolate without added sugars.

Helwa produces this wafer bar in lots of flavours like; milk chocolate, dark chocolate, white chocolate, strawberry, cookies & cream, salted caramel, orange, vanilla and more to come.
The bars are produced without artificial colors or flavours and are free from added sugar.

Protein Wafer Bars are extremely suitable for health-minded and active consumers.
Helwa 40- gram Protein Wafer Bar containing 20% of Protein
Helwa 25-gram Protein Square Wafer containing 20% Protein
Helwa Protein Breakbar (21.5g)
Helwa Gluten Free Break Bar (21.5g)
Helwa Gluten Free Bubbly Choc Wafer (27g)
Helwa 30-gram No Added Sugar Wafer Bar
Helwa No Added Sugar Break Bar (21.5g)
Helwa 40-gram Vegan Chocolate Wafer Bar
Helwa Vegan Protein Wafer Bar containing 27% of Protein