<![if !IE]> <![endif]>

Cloetta Holland BV
Hoevestein 26
4903 SC OOSTERHOUT NB
Netherlands
List of product entries
This exhibitor shows the following products and commodity groups:

Product emphasis
chocolate, chocolate products
sugar confectionery

Trend subjects
Allergy friendly
Halal
Impulse packages
Kosher
Vegan
Vegetarian

Target and sales markets
Australia
Brazil
Canada
China
Colombia
India
Japan
Mexico
Middle East
New Zealand
North Africa
Northern Europe
Others Central America
Others Eastern Europe
Others Oceania
Others South America
Russia
South Africa
South East Asia
Southern Europe
Turkey
USA
Western Europe

Company & products
Products
Chewits Juicy & Extreme Bites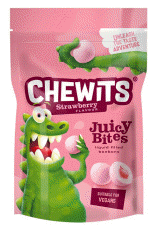 Cloetta, the leading confectionery company in the Nordic region, will launch Chewits Juicy & Extreme Bites during ISM 2022 for all global markets.
After the huge launch success of Bites in Chewits home market UK, the product line will now also become available for all other markets around the globe.
Chewits Bites come in liquid-filled (Strawberry or Blueberry flavour) and sour powder-filled (Apple&Lemon flavour) and are packed in premium standing pouch.
The infamous and recognizable Chewy the Chewitosaurus is of course on the front of pack and probably Bites' biggest fan.