<![if !IE]> <![endif]>

Lumar PPHU Lucjan Walkowicz
Sloneczna 11
46-220 Byczyna
Poland

+48 774134536


+48 77 4134760


List of product entries

This exhibitor shows the following products and commodity groups:

Product emphasis
Fine bakery products
Snack products

Trend subjects
Halal
Impulse packages
Private label
Vegetarian

Target and sales markets
Australia
Brazil
Canada
China
Colombia
East Africa
India
Japan
Mexico
Middle East
New Zealand
North Africa
Northern Europe
Others Central America
Others Eastern Europe
Others Oceania
Others South America
Russia
South Africa
South East Asia
Southern Europe
Turkey
USA
West Africa
Western Europe

Company & products
Products
Lumarki coconut wafer pralines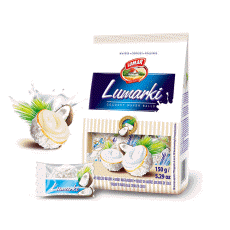 Lumarki - coconut wafer pralines are composition of creme, crispy wafer and coconut chips. Delight the moment with Lumarki...