<![if !IE]> <![endif]>
Georgia Ramon GmbH & Co. KG
Basaltstr. 57
53227 Bonn
Germany
List of Products
This exhibitor shows the following products and commodity groups:

Trend subjects
Fair trade
Handcrafted products/Artisan
Organic
Vegan

Target and sales markets
Australia
China
Japan
Northern Europe
Southern Europe
USA
Western Europe

Company & products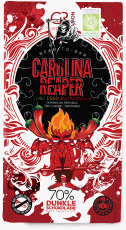 Carolina Reaper
All our chocolates are produced in our factory in from bean-to-bar mostly in organic quality.
This dark organic chocolate with 70 % cocoa is flavored with Carolina Reaper, the hottest chili in the world. With an average of 1,569,300 Scoville and peak
values of more than 2,200,000 Scoville this variety achieved an entry in the Guinness Book of World Records in November 2013.
The chocolate knows no mercy, only pain. For true gourmet masochists. The chocolate has no right to exist, except that
many people enjoy it when the hot pain of chili rises to their head. You have been warned! Our bestseller since the release in April 2016!