<![if !IE]> <![endif]>
Fribol
Udklitvej 31
9690 Fjerritslev
Denmark
List of Products
This exhibitor shows the following products and commodity groups:

Trend subjects
Functional
Private label
Sugar free
Vegan

Company & products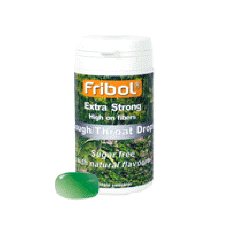 Fribol® Cough/Throat Drops
Fribol® Cough/Throat Drops is your natural help to provide relief from cold symptoms as cough and sore throat. It's a series of strong drops that among other things contain extract from the herb thyme and raw materials known for the refreshing and – as many people say – soothing properties. Fribol® Cough/Throat Drops are sugarfree, glutenfree and lactose free. They contain no drugs and can also be eaten during pregnancy and breastfeeding. Comes in 7 variants: Original, Licorice, Propolis, Lemon, Ginger, Blueberry, Junior.