<![if !IE]> <![endif]>
Equiori
Calle 12f # 03-08 Officina 403
111711 Bogota
Colombia
List of Products
This exhibitor shows the following products and commodity groups:

Trend subjects
Fair trade
Organic
Private label
Vegan

Target and sales markets
Brazil
Canada
Japan
Mexico
Northern Europe
Others Eastern Europe
Russia
Southern Europe
USA
Western Europe

Company & products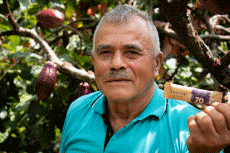 Organic dark chocolate bar, 70% cacao content with cacao nibs
Chocolate bar produced in Colombia by EQUIORI. We provided technical assistance to farmers for years in order to have high-quality organic cacao to produce our chocolates. Our chocolates are vegan, organic and fair trade. We have in 7, 13 and 80 grams presentations.