<![if !IE]> <![endif]>

Italy Export - Gidiemme s.a.s.
Via Ettore Fieramosca 31
20900 MONZA (MB)
Italy

+39 0392620010


+39 039834190


List of product entries

This exhibitor shows the following products and commodity groups:

Product emphasis
Organizations, associations

Trend subjects
Functional
Halal
Handcrafted products/Artisan
Kosher
Organic
Private label
Sugar free

Target and sales markets
Australia
Brazil
Canada
China
Colombia
East Africa
India
Japan
Mexico
Middle East
New Zealand
North Africa
Northern Europe
Others Central America
Others Eastern Europe
Others Oceania
Others South America
Russia
South Africa
South East Asia
Southern Europe
Turkey
USA
West Africa
Western Europe

Company & products
Products
Italy Export Sweets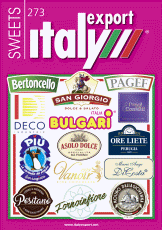 Since 1984, the principal objective of the magazine Italy Export has been to put Italian manufacturers in contact with importers, distributors, and managers in large-scale distribution abroad, through its magazines dedicated to food and sweets.
Italy Export has been attending the most important world sector exhibitions for over 39 years to give his clients a greater and greater visibility.
Aware of the high level of Italian output and of the need for the right support for promoting in foreign markets, Italy Export supports now the magazines with the new web portal to continue the promotion of the Italian production all over the world.
Follow us on Twitter, Facebook, Instagram and LinkedIn.