<![if !IE]> <![endif]>
Chocolat Madagascar
Bd Ratsimandrava Andefanambohija 472,
101 Antananarivo-
Madagascar
List of Products
This exhibitor shows the following products and commodity groups:

Trend subjects
Allergy friendly
Fair trade
Halal
Handcrafted products/Artisan
Impulse packages
Kosher
Limited edition
Organic
Private label
Sugar free
Vegan
Vegetarian

Target and sales markets
Australia
Canada
China
Europe
Japan
Middle East
New Zealand
Northern Europe
Others Eastern Europe
Russia
Southern Europe
Turkey
USA
Western Europe

Company & products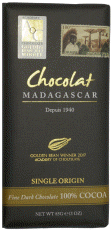 Chocolat Madagascar fine dark chocolate 100% Cocoa ( Tree to Bar)
World "Golden Bean Winner" ( Academy of Chocolate), International Chocolate Award Gold Winner, Great Taste Award Winner. Freshly grown and crafted into fine chocolate in Madagascar from north west Grand Cru de Sambirano rare cacao ( criollo-trinitario)
Fruity, raisin, citrus taste, low bitterness, smooth and fine texture.
Vegan.
Pure.
No added flavours
No added sugar
High flavanols ( more than Broccoli)
No chemical processing.( No alkalisation)
Raisetrade - Product of Origin (World's fairest Chocolate)

Ingredients : Fine Madagascar cocoa beans. Cocoa solids 100% minimum. Net weight 85g