<![if !IE]> <![endif]>
Calbee Group UK Ltd
Duncombe Street 4
BRADFORD BD8 9AJ
United Kingdom
List of Products
This exhibitor shows the following products and commodity groups:

Trend subjects
Vegan
Vegetarian

Target and sales markets
Northern Europe
Others Eastern Europe
Southern Europe
Western Europe

Company & products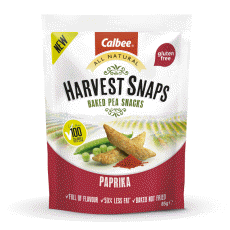 Harvest Snaps – Baked pea Snaps
Harvest Snaps – Baked pea Snaps
Made with a minimum 68% Green peas
Lees than 100 Calories per serving
Baked not Fried
50% Less Fat compared to regular potato chips
Suitable for vegetarians
Gluten Free
High in Fibre
A source of protein

Harvest Snaps uses the goodness of vegetables combined with delicious flavours to bring you a range of great tasting snacks that are better for you! Baked not fried and made from over 68% green pea, Harvest Snaps are 50% less fat*, high in fibre and a good source of protein! Full of flavour, each serving contains less than 100 calories so you can enjoy our delicious Harvest Snaps guilt-free!