<![if !IE]> <![endif]>
Ines Rosales S.A.U.
C/ De la Mujer Trabajadora 5
41830 Huévar del Aljarafe
Spain
+34 954756427

+34 954756335

List of Products
This exhibitor shows the following products and commodity groups:

Trend subjects
Handcrafted products/Artisan
Kosher
Organic
Sugar free
Vegan
Vegetarian

Target and sales markets
Australia
China
Japan
New Zealand
Northern Europe
South East Asia
Southern Europe
Western Europe

Company & products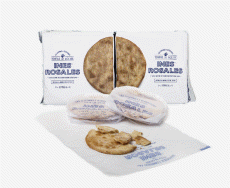 SÜSSGEBÄCK MIT OLIVENÖL UND ANIS
Seit 1910 spezialisiert auf die handwerkliche Herstellung traditioneller, andalusischer Back- und Konditoreiwaren, bei der nur natürliche Zutaten der Mittelmeerküche verwendet werden.

1910 rettete Inés Rosales Cabello das Rezept des Ölkuchens aus einem Familienkochbuch, und mithilfe einiger Frauen aus Castilleja de la Cuesta begann sie, sie in Sevilla zu verkaufen.

Heute führen wir diese altbewährte Tradition fort, indem wir jeden Kuchen per Hand herstellen, und hierfür nur natürliche, aus der Mittelmeerküche stammende Zutaten verwenden.

So entstehen unzählige Augenbliche zum Genießen und Zusammensein: morgens mit der ersten Tasse Kaffee, nachmittags, als Nachtisch oder zusammen mit frischem Obst, Joghurt, Käse, Pasteten, geräucherten Delikatessen...einfach unbegrenzte Geschmackskombinationen.