<![if !IE]> <![endif]>
Grefusa S.L.
Avenida de Llibertat d´Ensenyança 20
46600 Alzira
Spain
List of Products
This exhibitor shows the following products and commodity groups:

Trend subjects
Impulse packages
Vegan
Vegetarian

Target and sales markets
Northern Europe
Others Eastern Europe
Southern Europe
Western Europe

Company & products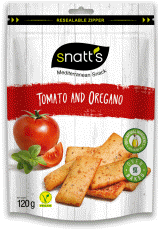 Snatt's
Snatt's are all about sharing a snackshot of the Mediterranean way of life.
This means eating a healthy, tasty and well balanced diet.
Our snacks are made using authentic mediterranean recipes...cereals, nuts, seeds, vegetables & herbs. Tasty & simple ingredients baked to perfection & never fried!