<![if !IE]> <![endif]>
Fox Bar italia Srl
Via delle Industrie 9
65013 CITTA SANT ANGELO (PE)
Italy
+39 085 969051

+39 085 9690154

List of Products
This exhibitor shows the following products and commodity groups:

Target and sales markets
Australia
Canada
China
Japan
Middle East
New Zealand
Northern Europe
Others Eastern Europe
Russia
South Africa
South East Asia
Southern Europe
Western Europe

Company & products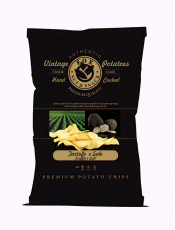 Vintage Potatoes Truffle
Vintage Potatoes Truffle and Salt gr.300 / gr.40

Hand Cooked Chips, potato chips made with the finest products from the earth, with a full and intense flavor, lovingly hand crafted.

Carefully selected raw ingredients and controlled production processes to guarantee natural products.

Fox's Hand-Cooked Chips are thicker due to the traditional cooking method which gives a distinct and characteristic flavous.

Pure sunflower oil.

Vegan friendly.

MSG Free.

Gluten Free.

100% natural products, 100% Fox. All over the world.