<![if !IE]> <![endif]>

Fox Bar italia Srl
Via delle Industrie 9
65013 CITTA' SANT'ANGELO (PE)
Italy

+39 085969051


+39 0859690154


List of product entries

This exhibitor shows the following products and commodity groups:

Trend subjects
Allergy friendly
Handcrafted products/Artisan
Impulse packages
Kosher
Organic
Vegan

Target and sales markets
Australia
Canada
Middle East
North Africa
Northern Europe
Others Eastern Europe
Russia
Southern Europe
Western Europe

Company & products
Products
Vintage Potatoes, the pleasure of artisanal potatoes chips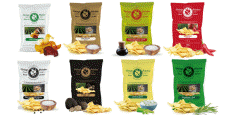 Bar Italia Aperitivo Italiano presents the Vintage Potatoes line, traditionally flavored crisps with sea salt, balsamic vinegar, onion cream, rosemary, black truffle, chilli, black pepper, 100% vegan.
The raw materials are rigorously selected and the manufacturing processes controlled to guarantee the naturalness of the products. Vintage Potatoes are thicker because they are produced according to the traditional method and give a pronounced and characteristic flavor.
The Vintage chips are available in packs of 40, 120 and 300 gr.