<![if !IE]> <![endif]>
FOREST GUM GmbH
Riehler Str. 77
50668 Köln
Germany
List of Products
This exhibitor shows the following products and commodity groups:

Trend subjects
Allergy friendly
Fair trade
Private label
reformulated products
Sugar free
Vegan
Vegetarian

Target and sales markets
Western Europe

Company & products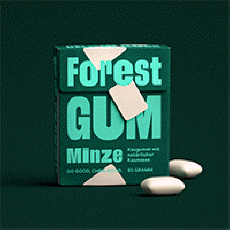 Forest Gum
FOREST GUM in aller Munde: Das Kaugummi aus pflanzlichen Zutaten gibt's jetzt zu kau(f)en.
Für sein gutes Produkt verzichtet das Kölner Social Start-up auf Zucker, künstliche Aromen oder chemische Zusatzstoffe – und auf Plastik, bei Kaumasse wie auch Verpackung. FOREST GUM trägt durch die traditionelle Gewinnung des Chicle-Saftes zum Erhalt der Tropenwälder und damit zum Klimaschutz bei.
Neben der natürlichen Kaumasse aus Chicle, dem Saft des Breiapfelbaums, schmeckt FOREST GUM umwelt- und gesundheitsbewussten Menschen gleich dreifach gut: Es kommt ohne Chemiebaukasten und Plastik aus, ist zuckerfrei und durch und durch vegan. Auf der grünen Zutatenliste stehen Xylit (Birkensaft) und Stevia als Süßungsmittel, Minz-Aroma, Glycerin, Gummi arabicum sowie Carnaubawachs.
FOREST GUM rettet Wälder, Klima und Kaugummikauer.
Die Kaumasse für FOREST GUM besteht aus dem Saft des Breiapfelbaums. Der wächst in den Tropen Zentralamerikas und bereits die Mayas nutzten ihn zum Kauen. Der Chicle-Saft wird traditionell geerntet, die Bäume nehmen keinen Schaden. Dank nachhaltiger Bewirtschaftung bleibt so das zweitgrößte, zusammenhängende Waldgebiet Zentralamerikas langfristig intakt. Als CO2-Speicher sind Bäume enorm wichtig für den Klimaschutz. Zudem entsteht durch die faire Zusammenarbeit mit lokalen Partnerkooperativen für die Menschen vor Ort eine neue, dringend benötigte Einkommensquelle.
Ein weiterer Punkt: Kaum ein Kaugummikauer weiß, womit er es wirklich zu tun hat. Meist ist es Plastik, das sich auf der Zutatenliste herkömmlicher Produkte hinter als "Kaumasse" tarnt. Aus chemischer Sicht die gleiche synthetische Basis wie die von Autoreifen oder Kunststoffflaschen. Neben der Tatsache, dass dies eine nicht besonders appetitliche Vorstellung ist, kommt hinzu, dass Kaugummis so erheblich zur Umweltverschmutzung beitragen und Jahrhunderte brauchen, um zu verrotten. Deshalb sagt FOREST GUM auch bei der Verpackung goodbye zu Plastik.