<![if !IE]> <![endif]>
Confiserie Felicitas GmbH
Schokoladenweg 1
03130 Spremberg
Germany
+49 35698 805550

+49 35698 8055555

List of Products
This exhibitor shows the following products and commodity groups:

Trend subjects
Handcrafted products/Artisan
Organic
Vegan

Company & products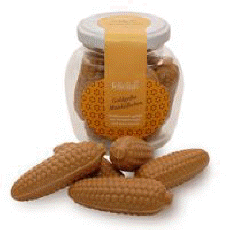 Maiskölbchen im Glas - Der brandenburger Herbstklassiker im goldgelben Gewand
Neben unseren Spreewälder Gurken im Glas, haben wir unsere Produktpalette "Gemüse im Glas" nun um ein weiteres Produkt, die Maiskölbchen erweitert. In einer Hülle aus Goldkaramell verbinden sich feinstes Mandelnougat und knusprige Salzchrispies zu einem süß-salzigen Geschmackserlebnis der Extraklasse. Eine weitere Besonderheit dieses Produktes ist unsere Goldkaramellschokolade an sich, denn beim Verarbeitungsprozess des Conchierens wird hier der bereits enthaltene Zucker karamellisiert wird und kein Extrazucker zugesetzt.