<![if !IE]> <![endif]>
DreiMeister Spezialitäten Hans Schröder GmbH & Co. KG
Weststr. 47
59457 Werl
Germany
List of Products
This exhibitor shows the following products and commodity groups:

Company & products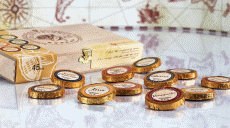 Golddublonen
Das sicherlich bekannteste DreiMeister Produkt ist unsere Golddublone. Diese kleinen Schokoladenschätze sind seit über 10 Jahren das Aushängeschild.

Mit goldfarbener Folie umhüllt wirken Sie wie echte Golddukaten aus alten Piratenzeiten. Und genauso wertvoll wir Ihr Äußeres suggeriert ist auch Ihr zartschmelzender Inhalt. In 6 Sorten werden Sie im Werk in Westönnen täglich frisch produziert. Jede Sorte geschmacklich geprägt mit den Eigenheiten der besonderen Anbauregion, aus der die wertvollen Kakaobohnen stammen. Im zarten Schmelz der Java Dublone zum Beispiel findet man die fruchtige Süße der Lavaböden wieder. Während die Sorte Ghana mit seinem hohen Kakaogehalt von 85% einen feinwürzigen Geschmack zaubert.

Egal ob in der hölzernen Zigarrenkiste verpackt oder einzeln verschenkt, sind Sie das berühmteste Erkennungsmerkmal DreiMeisters und etwas für ganz besondere Kenner.