<![if !IE]> <![endif]>

DELAVIUDA ALIMENTACION SAU
Calle Santa María 4
45100 Sonseca
Spain

+34 902343342


+34 913025311


List of product entries

This exhibitor shows the following products and commodity groups:

Product emphasis
chocolate, chocolate products
sugar confectionery

Trend subjects
Handcrafted products/Artisan
Impulse packages
Sugar free

Target and sales markets
Australia
Brazil
Canada
China
Colombia
East Africa
India
Japan
Mexico
Middle East
New Zealand
North Africa
Northern Europe
Others Central America
Others Eastern Europe
Others Oceania
Others South America
Russia
South Africa
South East Asia
Southern Europe
Turkey
USA
West Africa
Western Europe

Company & products
Products
NOUGAT STICKS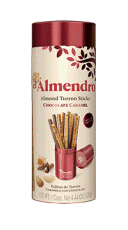 Delaviuda Alimentacion Group with its brand El Almendro, invites you to discover a new way of enjoying Almond Confectionery with the Nougat Sticks.
Available in 3 different flavours: Traditional, Caramel Salt and Caramel with Chocolate and ready to consume!