<![if !IE]> <![endif]>
Confiture l'Ardennaise
Route de Marche 2
4190 Ferrières
Belgium
+32 4 2289159

+32 4 3691269

List of Products
This exhibitor shows the following products and commodity groups:

Trend subjects
Kosher
Limited edition
Organic
Private label
Sugar free
Vegan

Target and sales markets
Australia
Canada
China
Europe
Middle East
Northern Europe
South Africa
Southern Europe
USA
Western Europe

Company & products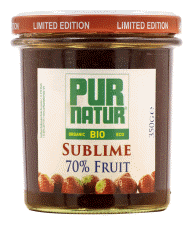 PUR NATUR 70% OF FRUITS
OUR NEW PRODUCT 'PUR NATUR' SUBLIME, ORGANIC FRUITSPREAD CONTAINS 70% OF FRUITS. MORE FRUITS AND LESS SUGAR, THIS IS WHAT OUR CLIENTS ARE LOOKING TO. EAT HEALTIER WITH LESS SUGAR. OUR FRUITS HAVE BEEN SELECTED WITH THE GREATEST CARE IN ORDER TO MEET OUR QUALITY EXPECTATION.