<![if !IE]> <![endif]>
Confidas N.V.
Booiebos 29
9031 Drongen
Belgium
+32 92820101

+32 92820137

List of Products
This exhibitor shows the following products and commodity groups:

Trend subjects
Allergy friendly
Functional
Handcrafted products/Artisan
Impulse packages
Kosher
Private label
Vegan
Vegetarian

Target and sales markets
Canada
China
Middle East
Northern Europe
Others Eastern Europe
Russia
Southern Europe
USA
Western Europe

Company & products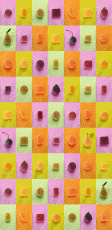 Confidas
Confidas was founded in 1982 and since the onset it specialized in the production of authentic pâtes de fruits. Over the years the number of different varieties of pâtes de fruits grew and Confidas always stayed true to the definition of a genuine pâtes de fruitsby always ensuring a minimum fruit content of 50%. Pure fruit is what you taste in our pâtes de fruits. They are composed of fruit pulp, pectin extracted from apples and lemons and sugar. Our fruit jellies are vegan, lactose and glutenfree, don't contain artificial colours or flavours and are free from preservatives.