<![if !IE]> <![endif]>
Codan S.A.
Carretera de Valencia 25
28500 Arganda del Rey
Spain
+34 918710861

+34 918712117

List of Products
This exhibitor shows the following products and commodity groups:

Trend subjects
Halal
Kosher
Private label
Sugar free

Target and sales markets
China
East Africa
Europe
Japan
Mexico
New Zealand
North Africa
Northern Europe
Oceania
South Africa
South East Asia
Southern Europe
West Africa
Western Europe

Company & products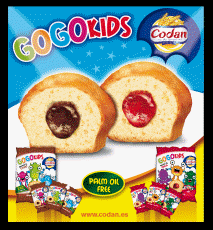 GOOGOKIDS COCOA AND STRAWBERRY
PRODUCT DEFINITION: The GOGOKIDS are tender filled snacks, ideal for children. They are mini cakes in the form of muffins, with two versions of fillings: cocoa cream or strawberry filling.

Product made without palm oil.

FORMAT: The Gogokids are presented in a fun themed bag with 9 wrapped units of 27.1g, on the go and with three 3 versions of different and fun designs by type of filling.

We also have the assortment box format with window, for 45 units wrapped for each filling.

TARGET GROUP: The Gogokids are focused for the target kids & teenagers. The concept of designs, the texture of the product and being a product on the go, is designed to be the ideal snack to take at school or at snack away from home.

SHELF LIFE: 180 days.