<![if !IE]> <![endif]>
Chocolat Stella Bernrain AG
Bündtstrasse 12
8280 Kreuzlingen
Switzerland
List of Products
This exhibitor shows the following products and commodity groups:

Trend subjects
Allergy friendly
Fair trade
Functional
Halal
Handcrafted products/Artisan
Impulse packages
Kosher
Limited edition
Organic
Private label
reformulated products
Sugar free
Vegan
Vegetarian

Target and sales markets
Africa
Asia
Australia
Brazil
Canada
China
Colombia
East Africa
Europe
India
Japan
Mexico
Middle East
New Zealand
North Africa
Northern Europe
Oceania
Others Central America
Others Eastern Europe
Others Oceania
Others South America
Russia
South Africa
South East Asia
Southern Europe
The Americas
Turkey
USA
West Africa
Western Europe

Company & products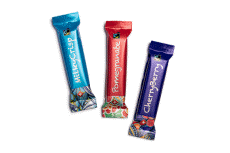 New chocolate assortment by Chocolat Stella Bernrain in organic and Fairtrade quality
A unique taste in a smart size of only 33g. Our new 33g chocolate bars are available in the following tastes: Milky Crisp, Cherry Berry and Pomegranate. Three individual flavours packed in a small size as a chocolate to go. Naturally made from organic and fair trade certified ingredients.