<![if !IE]> <![endif]>

Chocolat Stella Bernrain AG
Bündtstrasse 12
8280 Kreuzlingen
Switzerland

List of product entries

This exhibitor shows the following products and commodity groups:

Product emphasis
chocolate, chocolate products

Target and sales markets
Africa
Asia
Australia
Brazil
Canada
China
Colombia
East Africa
Europe
India
Japan
Mexico
Middle East
New Zealand
North Africa
Northern Europe
Oceania
Others Central America
Others Eastern Europe
Others Oceania
Others South America
Russia
South Africa
South East Asia
Southern Europe
The Americas
Turkey
USA
West Africa
Western Europe

Company & products
Products
Chocolat Stella Organic and FairTrade Crunchy Oat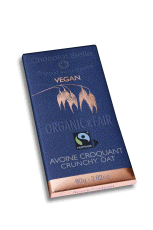 Vegan and lactose-free
We warmly welcome the newest member of the Vegan Range which was created based on whole oat flour(gluten-free). To create something special, we gave the bar an extra portion of crunch by adding cocoa granulate and caramel pieces.