<![if !IE]> <![endif]>
Chocmod S.A.S.
Avenue de Flandre 1
59435 RONCQ CEDEX
France
+33 320289280

+33 320289295

List of Products
This exhibitor shows the following products and commodity groups:

Trend subjects
Fair trade
Impulse packages
Kosher
Organic
Private label
Vegetarian

Target and sales markets
Africa
Asia
Australia
Brazil
Canada
China
Colombia
East Africa
Europe
India
Japan
Mexico
Middle East
New Zealand
North Africa
Northern Europe
Oceania
Others Central America
Others Eastern Europe
Others Oceania
Others South America
Russia
South Africa
South East Asia
Southern Europe
The Americas
Turkey
USA
West Africa
Western Europe

Company & products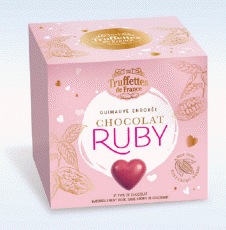 Ruby Chocolate Marshmallow
After dark, milk and white, ruby is the most uncommon chocolate discovery in 80 years. This gift of mother nature surprises and bedazzles with a completely new chocolate taste and colour experience, born from the ruby cocoa bean – without adding any colourants or fruit flavourings. Naturally pink, this great new chocolate has an intense fruitiness and fresh sour note.

For the first time, consumers will experience the combination of ruby chocolate and velvety french marshmallow. In shape of bears or heart, this innovative and unique indulgence creates a brand new taste experience.