<![if !IE]> <![endif]>
Chocco Garden Ltd.
Dobsinai
1124 Budapest
Hungary
List of Products
This exhibitor shows the following products and commodity groups:

Trend subjects
Functional
Kosher

Target and sales markets
Brazil
Canada
Japan
Mexico
Middle East
North Africa
Northern Europe
Others Central America
Others Eastern Europe
Others South America
Russia
South Africa
Southern Europe
USA
Western Europe

Company & products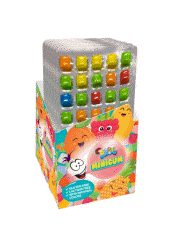 Chocco Garden Minigum family
We have recently invested in a new gum production line, that enables us to produce dragee shaped gums. The minigums that you see on the picture come in blister packaging, are very small, (5×5 mm), colored vividly, and packaged in an attractive display.
They are available in traditional fruit and mint flavors, however in the domestic market we have already introduced the same mini dragee shaped PREVENT functional gum family, with anti-stress, cacao flavonoid-super immune, and energizing green tea and magnesium version.