<![if !IE]> <![endif]>
Celiko S.A.
Sw. Antoniego 71
61-359 Poznan
Poland
+48 618712700

+48 618793595

List of Products
This exhibitor shows the following products and commodity groups:

Trend subjects
Functional
Private label
Vegan
Vegetarian

Target and sales markets
Africa
Asia
Australia
Brazil
Canada
Colombia
East Africa
Europe
India
Japan
Mexico
Middle East
New Zealand
North Africa
Northern Europe
Oceania
Others Central America
Others Eastern Europe
Others Oceania
Others South America
Russia
South Africa
South East Asia
Southern Europe
The Americas
Turkey
USA
West Africa
Western Europe

Company & products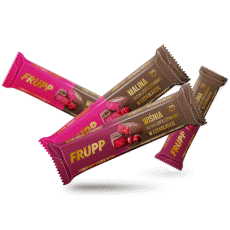 FRUPP Chocolate covered freeze-dried crunchy fruit bar 20 g - SOUR CHERRY bar & RASPBERRY bar
FRUPP IN CHOCOLATE
NEW IN THE FRUPP BARS LINE
CELIKO is expanding its line of freeze-dried fruit bars under the FRUPP brand by a new segment – chocolate covered freeze-dried bars.
FRUPP in chocolate are freeze-dried fruit bars covered with delicious chocolate with a minimum content of 70% cocoa. These products are targeted to people who appreciate perfect and trustworthy combinations of flavors. They offer a wonderful taste experience - a combination of aromatic taste and crunchy consistency of freeze-dried fruit with the delicious taste of excellent chocolate. FRUPP bars are the exclusive snacks both for lovers of sweet, fruity sweets and additional for those who stay active and healthy, but want to satisfy their sweet tooth from time to time.
To start with 2 basic flavors will be launched - cherry in chocolate and raspberry in chocolate. Each bar has a weight of 20 g.
FRUPP is a brand of bars and snacks from freeze-dried fruit offered by CELIKO - an experienced manufacturer of functional and dietetic food. These are delicious and valuable snacks, which are a great alternative to high-calorie sweets. Their production is carried out using freeze-drying - a method considered to be the most preserving drying process. Thanks to it the fruit used for the production of FRUPP bars and snacks largely retain not only the intense aroma and taste, but above all their nutritional values. There are currently several products in 3 categories in the FRUPP line.