<![if !IE]> <![endif]>
Burmar Sweets, S.L.
Carretera Puerto Peña 19
06640 Talarrubias
Spain
+34 924 630213

+34 924 630353

List of Products
This exhibitor shows the following products and commodity groups:

Trend subjects
Allergy friendly
Functional
Halal
Impulse packages
Organic
Private label
Sugar free
Vegan

Target and sales markets
Africa
Asia
Australia
Brazil
Canada
China
Colombia
East Africa
Europe
India
Japan
Mexico
Middle East
New Zealand
North Africa
Northern Europe
Oceania
Others Central America
Others Eastern Europe
Others Oceania
Others South America
Russia
South Africa
South East Asia
Southern Europe
The Americas
Turkey
USA
West Africa
Western Europe

Company & products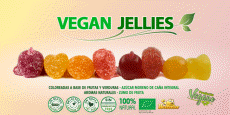 VEGAN GUMMY CANDIES
Burmar Vegan gummy candies are made without gelatin or any other animal product, making it suitable for vegans and halal consumers. They are also free from gluten, lactose and fat.
We have also Certified Organic and Vegan Gummy Candies.