<![if !IE]> <![endif]>

Andros Confiserie
Les Escures
19120 ALTILLAC
France

+33 5 55919100


+33 5 55915708


List of product entries

This exhibitor shows the following products and commodity groups:

Product emphasis
sugar confectionery

Target and sales markets
Australia
Colombia
Mexico
Middle East
New Zealand
Northern Europe
Others Central America
Others Eastern Europe
Others Oceania
Russia
South East Asia
Southern Europe
Turkey
USA
Western Europe

Company & products
Products
box of 10 fresh milk caramel lollipops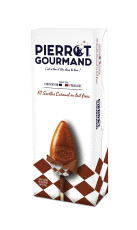 The iconic and genuine Pierrot Gourmand fresh-milk caramel lollipop has enchanted sweet lovers...for nearly one hundred years! Proposed in a 10-lollipop box, its unique flavor and its feather shape will delight adults and children for a journey into a world of sweetness and dreams.
Trademark

Andros Confiserie


Andros Confiserie / Pierrot Gourmand


Pierrot Gourmand