<![if !IE]> <![endif]>
AKSAM SPÓLKA Z OGRANICZONA ODOWIEDZIALNOSCIA SPÓLKA KOMANDYDTOWA
Karolina 70
32-608 Osiek
Poland
+48 33 8429700

+48 33 4454249

List of Products
This exhibitor shows the following products and commodity groups:

Trend subjects
Kosher
Organic
Private label
Vegetarian

Target and sales markets
Australia
Brazil
Canada
Colombia
Mexico
New Zealand
North Africa
Northern Europe
Others Eastern Europe
Others Oceania
Russia
South Africa
Southern Europe
USA
Western Europe

Company & products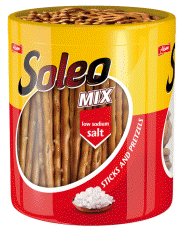 SOLEO TUBE MIX 300 g
Pretzels Sticks and Pretzels with salt sprinkled, packed in plastic TUBE with weight 300 g. Product is in convenient packaging that you can take with you everywhere as well as close and open several times keeping product fresh for longer. The product is suitable for vegetarians and vegans. Good for any occasion.