<![if !IE]> <![endif]>

KRAS Food Industry plc
Ravnice 48
10000 Zagreb
Croatia

List of product entries

This exhibitor shows the following products and commodity groups:

Product emphasis
chocolate, chocolate products
Fine bakery products

Trend subjects
Functional
Halal
Impulse packages
Sugar free
Vegan

Target and sales markets
Brazil
China
Colombia
East Africa
India
Japan
Mexico
Middle East
North Africa
Others Central America
Others South America
Russia
South Africa
South East Asia
Turkey
West Africa

Company & products
Products
KRAS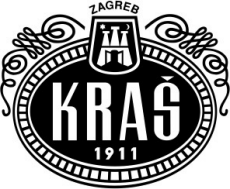 Century of Tradition and Quality

KRAS is the largest and most reputable manufacturer of confectionery products in Southeast Europe. Founded in 1911 in Zagreb - the capital of Croatia - KRAS has built up its tradition based on the high quality of its fine chocolates, candies, biscuits and wafers.

More than 100 years of the Company's development have been crowned with modern, high technology production of three basic groups of products: cocoa products (chocolate, desserts), biscuits and wafers and candy products. Many years of Investments in know-how and development of production, as well as continuous monitoring of consumers' needs and global trends in confectio nery production, have made KRAS an internationally known manufacturer of confectionery. This has been proved by numerous international quality awards and acknowledgements.

KRAS was the first Croatian confectioner to be awarded the ISO 9001 certificate, confirming its high manufacturing standards. The company also affirmed its commitment to its customers by introducing an international quality system in accordance with ISO 9001:2000 standard. A product quality management system in accordance with the ISO 9001 standard provides assurance that food safety standards are maintained via HACCP systems.

When manufacturing finished products, KRAS uses raw materials that are not genetically modified. Therefore they can be given to your children with full confidence.

Over the years KRAS has also enriched its assortment with Halal and Kosher certified products making its assortment suitable to a wide range of consumers.