<![if !IE]> <![endif]>

ChocDecor
Spieveldstraat 29
9160 Lokeren
Belgium

List of product entries

This exhibitor shows the following products and commodity groups:

Product emphasis
chocolate, chocolate products

Trend subjects
Private label

Target and sales markets
Australia
Brazil
Canada
China
Colombia
East Africa
India
Japan
Mexico
Middle East
New Zealand
North Africa
Northern Europe
Others Central America
Others Eastern Europe
Others Oceania
Others South America
Russia
South Africa
South East Asia
Southern Europe
Turkey
USA
West Africa
Western Europe

Company & products
Products
Belfine chocolate lollipops Unicorn Imane & Dragon Elliott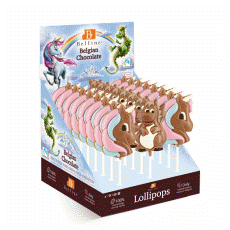 Meet Unicon Imane and Dragon Elliott in their beautiful Belfine Fantasy land. The wonderful & colourful lollipop display will immediately grab your customer's attention and make them smile. Boys and girls will be attracted by the lovely and fairy-like chocolate figurines. And parents will love the fact that all Belfine lollipops are made in Belgium with the finest Belgian chocolate based on FAIRTRADE cocoa beans. For the fine decorations only natural colours are used.
Spread happiness with Belfine's cute & delicious chocolate lollipops!