<![if !IE]> <![endif]>
The Professional MFGS. for Chocolate & Confectionery Co.
Union Street
11185 Amman
Jordan
+962 64460067

+962 64460069

List of Products
This exhibitor shows the following products and commodity groups:

Trend subjects
Private label

Target and sales markets
Africa
Asia
Australia
Brazil
Canada
China
Colombia
East Africa
Europe
India
Japan
Mexico
Middle East
New Zealand
North Africa
Northern Europe
Oceania
Others Central America
Others Eastern Europe
Others South America
Russia
South Africa
South East Asia
Southern Europe
The Americas
Turkey
USA
West Africa
Western Europe

Company & products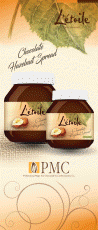 Létoile Hazelnut Spread
A delicious chocolate hazelnut spread, containing 13% of pure Hazelnut, It is a sublime blend of the purest chocolate with rich hazelnut, and no preservatives

Size:

Total Weight: 370 gr.
Total Weight: 750 gr.
Total Weight 1 kilo
Total Weight: 5 Kilo.

Storage:
Chocolate must be stored at a temperature of 18-20°C (64-68°F). Avoid exposure to sunlight or any external smells.