<![if !IE]> <![endif]>
Agathi for sweets & Ice cream Co.LTD

P.O. Box 17480
11195 Amman
Jordan
+962 4894004

+962 64895005

List of Products
This exhibitor shows the following products and commodity groups:

Trend subjects
Halal
Private label

Target and sales markets
Australia
Brazil
Canada
Middle East
New Zealand
Northern Europe
Southern Europe
Turkey
USA
Western Europe

Company & products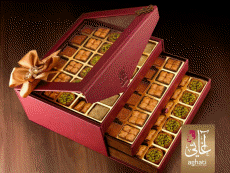 Aghati for Sweets - Honey Baklava
From the heart of Amman-Jordan, Aghati was founded, looking at our name, the first thing that comes to your mind is the Turkish word "Agha" which means "lord", "master", "chief"; we crafted the name and mastered the profession of the Turkish culture; back in the Ottoman Empire the Agha was for the figures who work in a high position, in addition to its association with many historical places in Turkey. The term "Agha" also may come in the sense of a handsome, rich and dignified man.
We created our own story, with the deliciousness between paper-thin layers of filo pastry which embraces crushed pistachios and re-invented the tradition & combined it with modernity to produce the finest Baklava. The sun set on the Ottomans but the traditions of the sweets are still glowing.
We gathered our long experience in sweets with the finest quality and built a state-of-the-art factory specialized in Oriental Sweets. We also discovered a new temptation of sweetening the Baklava after maturing in a scorching oven, the baklava's is doused with boiling hot syrup; waiting it to be somehow cold, we pour a drop of honey on top which makes it more coherent.
Aghati found the secret ingredients of lusciousness; empowered it with the knowledge dedication of a diverse team from confectionery cookers, our kitchen includes the Jordanian, Turkish & Syrian chefs who enabled Aghati to lead in it's industry.
Aghati's are passionate, ongoing team, heading towards superiority, we managed to obtain the ISO 22000:2018; HACCP in addition to being the first sweets factory in Jordan that succeeds to gain the FSSC "Food Safety System Certificate".
We merged our knowledge, with determination and turned the traditions into a variety of distinguish Oriental Sweets products.