<![if !IE]> <![endif]>
Mjengo Limited
OFF General Kago Road
1000 Thika
Kenya
List of Products
This exhibitor shows the following products and commodity groups:

Trend subjects
Private label
Sugar free
Vegetarian

Target and sales markets
Australia
New Zealand
North Africa
Northern Europe
Southern Europe
West Africa

Company & products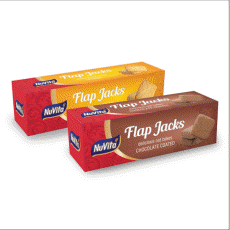 NuVita Flap Jacks
Our delicious Flap Jack biscuits are a curation from our grandmother's recipe. The recipe created in grandma's cozy kitchen and not in the Research & Development lab. This gives the product a home-made feel.
Flap Jack biscuits are rich in oats and coconut and thus create a synchronized high health quotient and appetizing taste. They are baked at a slow pace to create the perfect taste and shape.
Besides the Regular Flap Jack variant, we have a Chocolate Coated Flap Jacks that make an ideal choice for chocolate lovers! They are available across Kenya and Uganda. Making foray into Middle East and other African market in the coming months.
Our Flap Jacks have been awarded Gold status in the Africa Food Excellence Awards for Bakery and Snacks Product of the year for 2019. The NuVita brand has also been awarded Super brands status since 2018.