<![if !IE]> <![endif]>
THE 42 DEGREES COMPANY
Calle Nitrogeno 8
47012 Valladolid
Spain
List of Products
This exhibitor shows the following products and commodity groups:

Trend subjects
Functional
Private label

Target and sales markets
Africa
Asia
Australia
Brazil
Canada
China
Colombia
East Africa
Europe
Japan
Mexico
New Zealand
North Africa
Northern Europe
Oceania
Others Central America
Others Eastern Europe
Others Oceania
Others South America
Russia
South Africa
South East Asia
Southern Europe
The Americas
Turkey
USA
West Africa
Western Europe

Company & products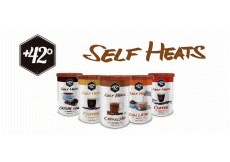 +42º Self Heats

The 42 Degrees Company brings the cafeteria to your pocket so you can have a hot drink 'ANYTIME, ANYWHERE' while you are on the go far from electrical devices.

We develop our own ready-to-go beverages of Chai Latte, Chocolate, Cappuccino and Coffees in a patented and fully recyclable self-heating can under the brand +42Degrees.

The Masala Spice mix adds a rich hint of cinnamon to this CHAI LATTE, combined with the refreshing taste of black tea and milk.

Our CHOCOLATE recipe brings out the full flavour of the cacao, whilst keeping all the deliciously soothing taste of milk.

Created by our expert recipe designers, our CAPPUCCINO will surprise and delight with its unique hint of caramel that will take you back to your childhood.

The Arabica beans used to make our COFFEE provide the perfect blend of acidity and bitterness, as well as just the right amount of caffeine to keep you going! With or without sugar.