<![if !IE]> <![endif]>
Bezgluten Sp. z o.o.
Posadza 128
32-104 Koniusza
Poland
+48 126265808

+48 126377489

List of Products
This exhibitor shows the following products and commodity groups:

Trend subjects
Allergy friendly
Functional
Handcrafted products/Artisan
Impulse packages
Limited edition
Private label
Sugar free
Vegan

Target and sales markets
East Africa
Middle East
North Africa
Northern Europe
Others Eastern Europe
Russia
South Africa
Southern Europe
Turkey
West Africa
Western Europe

Company & products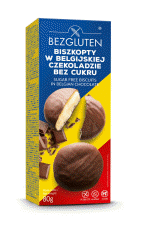 Biscuits in Belgian chocolate without sugar
A soft, delicate sponge cookies in Belgian dessert chocolate, gluten-free and sugar-free. However, not without a taste. Sweet, although they do not contain sugar. They will delight with their taste of excellent Belgian chocolate quality. The recipe was based on fresh eggs and maltitol was used instead of sugar. The biscuits do not contain artificial aromas and dyes, preservatives, loosening agents, glucose-fructose syrup or gluten-free wheat starch. They are a source of dietary fiber. Perfect for people who want to limit sugar in the diet. Perfect as a snack at work, at home, school or traveling. Thanks to the high content of dark chocolate, they provide a dose of energy and improve the mood.