<![if !IE]> <![endif]>
Carambar & Co. SAS
9 Rue Maurice Mallet
92130 ISSY LES MOULINEAUX
France
List of Products
This exhibitor shows the following products and commodity groups:

Company & products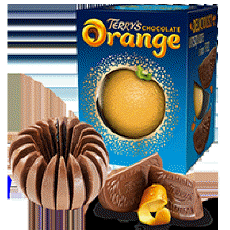 Terry's Chocolate Orange ball
With its round shape since 1932 and its unique consumption experience, Terry's Chocolate Orange ball has become the must-have and the 1st perfect token gift for Christmas." . Over 44 millions of Terry's Chocolate Orange Balls are sold worldwide! Terry's is synonymous with:
A full experience and an inimitable ritual: Tap it, unwrap it, enjoy it!
A subtle combination of delicious chocolate and natural extracts of orange oil.
A British success made in France synonymous with sharing, conviviality and pleasure.