<![if !IE]> <![endif]>
PookSpaFoods GmbH
Mädewalder Weg 2
12621 Berlin
Germany
+49 30 55511887

+49 30 92144205

List of Products
This exhibitor shows the following products and commodity groups:

Trend subjects
Vegan
Vegetarian

Target and sales markets
Africa
Asia
Australia
Brazil
Canada
China
Colombia
East Africa
Europe
India
Japan
Mexico
Middle East
New Zealand
North Africa
Northern Europe
Oceania
Others Central America
Others Eastern Europe
Others Oceania
Others South America
Russia
South Africa
South East Asia
Southern Europe
The Americas
Turkey
USA
West Africa
Western Europe

Company & products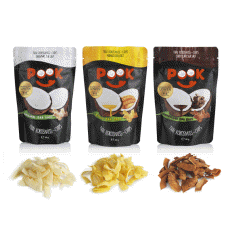 POOK
Yummy, Crispy and crunchy SIMPLE POOK! treats that her Customers are loving!
A Berlin start-up, founded by the Thai, Kanokporn "POOK" Holtsch, has surprised and delighted her customers, and industry experts alike, with her so tasty products.
Brand new: POOK Sticky Rice Chips - Winner of the Yummex Best Snack Product 2019
POOK introduces her latest snack, Sticky Rice Chips, super crunchy, made from Thai sticky rice and combined with the juice of the watermelon—which gives the chips a perfect hint of sweetness.
POOK Coconut Chips - Winner of the Fruit Logistica Innovation Award Gold 2018
The super crispy baked snack exploring all the flavors and benefits of the coconut.

POOK snacks are not only delicious treats for on-the-go, but also a fantastic compliment to so many of your favorite dishes.

It's no surprise that her customers are loving this versatile snack!

VEGAN / GLUTEN-FREE / NO ARTIFICIAL INGREDIENTS OR PRESERVATIVES.