<![if !IE]> <![endif]>
Chocolate and Love
Katrinelystvej 13
4180 Sorø
Denmark
List of Products
This exhibitor shows the following products and commodity groups:

Company & products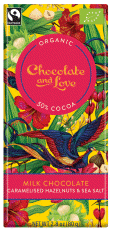 PREMIUM, ORGANIC, FAIRTRADE CERTIFIED CHOCOLATE BARS
We are a family run business creating great-tasting organic, Fairtrade chocolate. Chocolate that tastes good and does good too! We love it!
AWARD WINNING
Our range has received 37 Gold Great Taste Awards, one Silver Award and
one Bronze Award from Academy of Chocolate.
ORIGIN
Our partner sources the cacao directly at the cooperatives certified by Fairtrade
including Cocabo (Panama), Acopagro and El Quinacho (Peru), Fundopo (The Dominican Republic) and Cooperative Premium Cacao Sambirano CPCS in Madagascar.
ALL NATURAL – 7 VEGAN BARS
All our ingredients are natural. We do not use soy lecithin and the bars are of course gluten free. 7 of our flavours are Vegan.
NEWS
MILK CHOCOLATE WITH CARAMELISED HAZELNUTS & SEA SALT (50% COCOA).
The combination of rich, creamy milk chocolate and caramelized hazelnuts is irresistible. A hint of sea salt enhances the hazelnut and caramel nots and provides an excellent balance to the sweetness. With 50% cocoa this is a high percentage dark milk bar with a pronounced cocoa flavor and slightly sweet acidic notes originating from the cocoa.