<![if !IE]> <![endif]>
Terre Di Puglia Di Nicola Visaggio
Via Aristofane 27
76123 ANDRIA (BT)
Italy
+39 3288076190

+39 0883 886040

List of Products
This exhibitor shows the following products and commodity groups:

Company & products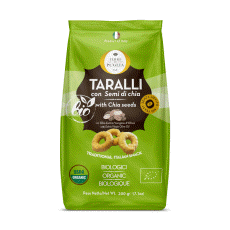 Organic Taralli
Organic Taralli with Chia Seeds by Terre di Puglia is an Italian Icon Food, a snack that comes from an ancient southern Italian recipe.
Taralli are crispy and baked rings made only with the finest organic ingredients; wheat flour, extra virgin olive oil, white wine, sea salt and chia seeds.
We follow the boiling process as the apulian old's recipe to preserve the unique experience of our culinary culture.
Our snacks are perfect at any time of the day, at lunches, dinners, brunches and happy hour.
Popular with the Italian aperitivo the spritz, Taralli also pair nicely with, beer, wines and champagne. Great with vegetables and savory spreads or enjoyed by its self as a snack.