<![if !IE]> <![endif]>
Fruitfunk B.V.
Helftheuvelweg 11
5222 AV S HERTOGENBOSCH
Netherlands
List of Products
This exhibitor shows the following products and commodity groups:

Trend subjects
Allergy friendly
Fair trade
Functional
Halal
Impulse packages
Kosher
Organic
Private label
Sugar free
Vegan

Target and sales markets
Northern Europe
Others Eastern Europe
South Africa
Southern Europe
Western Europe

Company & products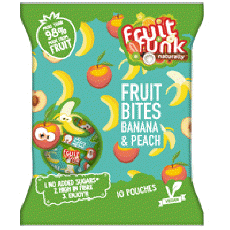 Fruitfunk – Multibag Banana Peach
The Multibag Banana Peach is Fruitfunk's newest product. With this new product Fruitfunk has again succeeded in making health conscious and delicious 'candy'. The Multibag contains 10 pouches of delicious fruit bites in a mix of banana and peach flavour. The fruit bites are more than 98% made from fruit. Fruitfunk products are always totally natural, without added sugars and super tasty. Since this product is made from only fruit they are suitable for several diets and kids with allergies.
In a short period of time the fruit is heated, dehydrated and cooled. After cooling down the fruit is shaped to our wonderful fruit bites. Our unique production method conserves the original fibres, minerals and vitamins. The dietary fibres ensure that the natural fructose will be absorbed by the human body at a slower rate. The result is that blood sugar levels remain stable. The dietary fibres also contribute saturation. To produce 100 gram Banana bites we use 0,5 banana, 3 apples and 1,5 pear. To produce 100 gram Peach bites we use 0,5 peach and 5 apples.
Please visit our stand at hall 10.2 stand H066. We will prove you that healthy snacking can be tasty and fun!