<![if !IE]> <![endif]>
The Foods of Athenry Ltd.
Oldcastle Kilconieron Athenry
County Galway H65 D495
Ireland
+353 91848152

+353 91848199

List of Products
This exhibitor shows the following products and commodity groups:

Trend subjects
Allergy friendly
Handcrafted products/Artisan
Impulse packages
Vegan
Vegetarian

Target and sales markets
Australia
Canada
Japan
Middle East
New Zealand
Northern Europe
Southern Europe
USA
Western Europe

Company & products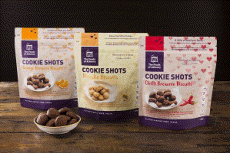 The Foods of Athenry COOKIE SHOTS
The Foods of Athenry famous and innovative Cookie Shot range, based on the concept of mindful eating - are mini 'shots' of chocolate and vanilla biscuits at only 4 calories per biscuit, all packed up in a convenient resealable retail pouch. Gluten Free and Vegan, they are uniquely popular with consumers of varying dietary requirements. Available in 5 delicious flavours, they are ideal for guilt free snacking. Rich in flavour, plant based and 'free-from' snacking has become a whole lot tastier.
A family business, baking all their own products on the family farm in the West of Ireland, with sustainability, choice and mindful eating core to what they do. Their multiple award-winning range of GLUTEN FREE and VEGAN bakery snack products give value, choice and a positive eat experience to their ever expanding customer base.
www.foodsofathenry.ie
info@foodsofathenry.ie
00353 91 848152