<![if !IE]> <![endif]>
Akriform Plast AB
Bergkällavägen 38
192 79 Sollentuna
Sweden
List of Products
This exhibitor shows the following products and commodity groups:

Trend subjects
Allergy friendly
Fair trade
Functional
Halal
Impulse packages
Kosher
Organic
Sugar free
Vegan
Vegetarian

Target and sales markets
Australia
Brazil
Canada
China
India
Japan
Mexico
Middle East
New Zealand
North Africa
Northern Europe
Others Eastern Europe
Russia
South Africa
Southern Europe
Turkey
USA
Western Europe

Company & products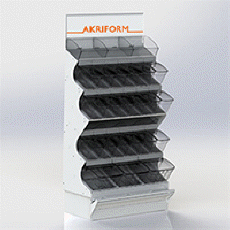 Pribox® - injection molded scoop bins
The Pribox® scoop bins and matching display systems from Akriform have all the smart features to meet current market demands, as well as a modern design with maximum product exposure on tilted shelves.

Advantages with the Pribox® bins
• The Pribox® label holder covers the edges of the shelves above, giving the display a clean and unified look. LED-strips highlights both the products and the label holders.
• The slow and quiet self-closing lid makes it easy for the customers to shop and keeps the products fresh longer.
• The sugar tray with sections stops the sugar from accumulating in the front.
• Refilling from the back lid gives maximum product rotation.
• Individual slide-out feature with the back hook. This makes refilling easy and eliminates heavy lifting.
• The bin can be split with one or two dividers, which makes it possible to hold up to 45 different kind of products in one 90 cm wide section.
• Unassembled the bin is stackable, which reduces the freight and storage costs.

NEW – Pribox® Small 150
Pribox® Small 150 is half the width of our current Pribox® bin, 150 mm compared to 300 mm. The two different sizes can easily be combined in the Pribox® racks. This new addition to our Pribox® range is launched at ISM 2019.

The Pribox® display systems

Pribox® sheet metal racks are available in different sizes;
• Standard display system (W: 900 mm, D: 770 mm, H: 1767 mm) with 5 shelves and room for 15 Pribox® bins.
• Slim display system (W: 900 mm, D: 528 mm, H: 1513 mm) with 4 shelves and room for 12 Pribox® bins.

With matching corner sections available for both systems, you can put together a display that suits your specific needs. The sheet metal racks can be lacquered in almost any color.

Visit our stand and let us demonstrate the new Pribox® range!