<![if !IE]> <![endif]>
CD S.A.
Krucza 16/22
00-526 Warszawa
Poland
+48 33 8270943

+48 33 8270965

List of Products
This exhibitor shows the following products and commodity groups:

Trend subjects
Private label
Vegetarian

Target and sales markets
China
India
Middle East
North Africa
Northern Europe
Others Eastern Europe
South Africa
Southern Europe
USA
Western Europe

Company & products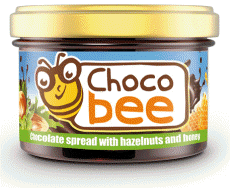 CHOCOBEE spread with chocolate, hazelnuts and honey is produced by the company CD S.A. in Poland. Its unique taste is available in three forms: as a dip with breadsticks, in a tube and in traditional jars.

The uniqueness of CHOCOBEE is its exceptional combination of top quality ingredients, such as
aromatic chocolate, hazelnuts and real floral honey.

The spread is made using only the best ingredients and has no artificial colours or preservatives. Our CHOCOBEE spreads will satisfy the palate of the most demanding consumers: children, adolescents and adults alike.

CHOCOBEE is the perfect solution for both younger and older connoisseurs, and thanks to its nutritional properties, we can reach for it whenever we have a craving for something sweet. CHOCOBEE, like all our other spreads, is also very widely used in confectionery (as an addition to creams, spreads, ganaches, glazes, fillings, cakes and toppings), gastronomy (as an addition
to desserts, waffles and pancakes), bakery (as a filling for buns, doughnuts and croissants), icecream (as an addition to flavoured ice-cream bases and as ice-cream variegators and toppings). It is also suitable for deep-freezing and for light baking inside cakes.