<![if !IE]> <![endif]>
Mieszko S.A.
Al. Jerozolimskie 181
02-220 Warszawa
Poland
+48 221055400

+48 221055415

List of Products
This exhibitor shows the following products and commodity groups:

Trend subjects
Functional
Halal
Impulse packages
Limited edition
Private label
Sugar free

Target and sales markets
Canada
China
India
Japan
Middle East
Northern Europe
Russia
South East Asia
Southern Europe
USA
Western Europe

Company & products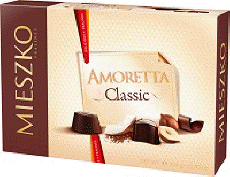 Amoretta Classic
Classic tastes never go out of fashion and will prove their quality in many situations.
Especially when we are talking about memorable gifts. One of such proposals is the Amoretta Classic praline collection with ideally creamy fillings. Perfect flavour
combinations will bring delight to the greatest of fans of toffee, orange, almond,
coconut, nut and cream flavoured pralines. It's an exceptional gift that will surely
bring joy to those who receive it, whatever the occasion.