<![if !IE]> <![endif]>
Chocolat Mathez
PARC D'ACTIVITES SAINT JEAN 3
49330 Châteauneuf sur Sarthe
France
+33 241695555

+33 241695858

List of Products
This exhibitor shows the following products and commodity groups:

Trend subjects
Allergy friendly
Fair trade
Halal
Kosher
Organic
Private label
Vegan

Target and sales markets
Australia
Brazil
Canada
China
Colombia
India
Japan
Mexico
Middle East
Northern Europe
Others Central America
Others Eastern Europe
Others South America
Russia
South East Asia
Southern Europe
Turkey
USA
Western Europe

Company & products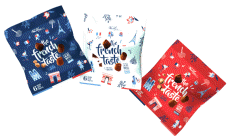 "The French Taste"
A new snacking item comes in our Mathez snacking range : « The French Taste » pocket bags.

With this new snacking item, Chocolat Mathez plays 100% the card of the French Touch with a mini bag. A packaging which gets its inspiration from the French cultural and Gourmet codes, spotlighting the Made in France production.

A nomade sized bag easy to take-away, and perfect whenever you get a bit peckish.

6 small Gourmet chocolate truffles with you in a freshness bag all day long.

Let taste our 3 yummy recipes : plain, hazelnuts and caramel offered in blue, white and red coloured mini bags.