<![if !IE]> <![endif]>
Canel's, S.A. de C.V.
Gral. I. Martinez 500
78049 San Luis Potosi
Mexico
List of Products
This exhibitor shows the following products and commodity groups:

Trend subjects
Allergy friendly
Halal
Kosher
Private label
Vegetarian

Target and sales markets
Australia
Brazil
Canada
Colombia
East Africa
Middle East
New Zealand
North Africa
Others Central America
Others Eastern Europe
Others South America
Russia
South Africa
South East Asia
Southern Europe
USA
West Africa
Western Europe

Company & products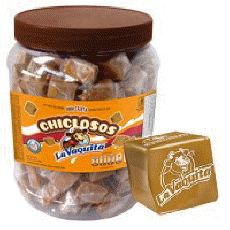 Canel's "Chiclosos La Vaquita" Milk Caramels.
Our rich and creamy milk caramels have become one of our hottest items. Made with real milk, their texture and flavor will make you want more. Perfect for a treat, for cooking, for a coffee, and more, our "Chiclosos Vaquita" are part of a wide family of milk products with a strong tradition, including other items such as lollipops, hard candy, and more. Our milk caramels are also available for private label projects and for repacking.