<![if !IE]> <![endif]>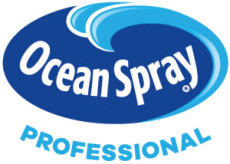 Ocean Spray Professional
Ocean Spray Dr
Middleboro ,MA 02349-1000
United States of America
List of Products
This exhibitor shows the following products and commodity groups:

Trend subjects
Allergy friendly
Halal
Kosher

Target and sales markets
Asia
Australia
Brazil
Canada
China
Colombia
Europe
India
Japan
Mexico
Middle East
New Zealand
Northern Europe
Oceania
Others Central America
Others Eastern Europe
Others Oceania
Others South America
Russia
South East Asia
Southern Europe
The Americas
Turkey
USA
Western Europe

Company & products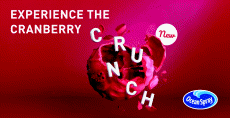 Company portrait
Ocean Spray Professional creates innovative cranberry ingredients to suit your needs! Ocean Spray's success in bringing cranberries to food and beverages manufacturers has secured its place as one of the world's premier fruit ingredient suppliers, selling to over 70 countries worldwide. Different cranberry formats add value to products in sectors as diverse as breakfast cereal, confectionery, dairy, salads, snacks and bakery!
Ocean Spray Professional offers a wide range of products including Crunchy Cranberries™ (both Whole and Diced formats), Cranberry Seeds, dried cranberries, frozen fruit, puree, and concentrate, so there is an exciting ingredient to suit different end product requirements. Ocean Spray's passion for cranberries, depth of scientific knowledge and market understanding allow for highly innovative ingredient development. The Ocean Spray Professional Group works in close partnership with food and beverage manufacturers to bring successful new products to market across the globe.
Ocean Spray Professional has a few new key innovations - Crunchy Cranberries™ - both whole and diced formats – as well as Cranberry Seeds. Crunchy Cranberries™ are Ocean Spray's first baked fruit ingredient and are slowly baked using Ocean Spray's proprietary drying process which makes them crunchier for a longer time. They are a perfect inclusion for confectionary, snacking, cereals and toppers. Cranberry Seeds are the only red seed that are ready for consumption and can withstand high temperature processing. A nutritional powerhouse and vibrant color for endless applications, such as snacking, bakery, salads, smoothies and cereals!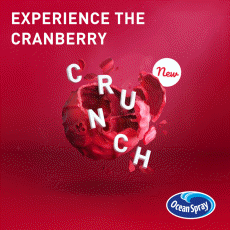 Crunchy Cranberries™
Innovative ideas are the most important ingredient for new sales opportunities. Get to know Crunchy Cranberries™ Sweetened Dried Cranberries – the worldwide first from the leading producer, based in Lakeville/Massachusetts.
Crunchy Cranberries™ are slowly baked using an Ocean Spray proprietary drying process which makes them stay crunchier for a longer time.
They combine the typical aroma and all the functional advantages of sweetened dried cranberries with a texture that is all the rage worldwide. They are a perfect inclusion to confectionary, snacks, cereal, and toppers – both yoghurt and salads. We invite you to benefit from this novelty at our booth H035 in the hall 05.2 (New Snack Area).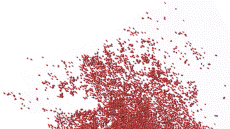 Cranberry Seeds
Innovative Ideen sind wichtig für neue Absatzmöglichkeiten. Lernen Sie Crunchy Cranberries™ kennen - die weltweit erste vom führenden Hersteller von Cranberrys in Massachusetts.
Crunchy Cranberries™ werden langsam mit einem von Ocean Spray entwickelten Trocknungsverfahren gebacken, wodurch sie länger knusprig bleiben. Sie sind eine perfekte Ergänzung zu Süßwaren, Snacks, Cerealien und Toppings - sowohl Joghurt als auch Salate. Sie sind jetzt auch in kleineren Größen erhältlich!
Cranberry Seeds sind die einzigen roten Saaten, die verzehrfertig sind und einer Hochtemperaturverarbeitung standhalten. Ein nährstoffreiches Kraftpaket und eine leuchtende Farbe für endlose Anwendungen wie Snacks, Bäckerei, Salate, Smoothies und Cerealien! Ein wirklich aufregendes neues Produkt, das dem trendigen Saatgutmarkt hinzugefügt werden kann!
Wir laden Sie ein, einige dieser neuen Produkte auf unserem Stand N30 in Halle 05.2 (New Snack Area) zu genießen.