<![if !IE]> <![endif]>
HDI Holding Dolciaria Italiana Spa
Strada Statale Paullese KM 45,6
26012 CASTELLEONE (CR)
Italy
List of Products
This exhibitor shows the following products and commodity groups:

Trend subjects
Fair trade
Impulse packages
Kosher
Private label

Target and sales markets
Africa
Asia
Australia
Brazil
Canada
China
Colombia
East Africa
Europe
India
Japan
Mexico
Middle East
New Zealand
North Africa
Northern Europe
Oceania
Others Central America
Others Eastern Europe
Others Oceania
Others South America
Russia
South Africa
South East Asia
Southern Europe
The Americas
Turkey
USA
West Africa
Western Europe

Company & products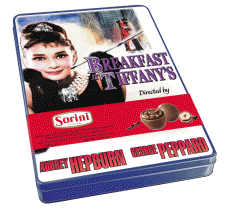 Sorini Cinema Tins
A range of classy tins with delicious chocolate pralines. The tins are embossed with the most famous and evergreen film scenes : "La Dolce Vita", "Vacanze Romane" , "Breakfast At Tiffany's" and "Casablanca". A double gift with the taste of Sorini chocolate combined with a piece of design, ideal for collectors and gifting.
Thanks