<![if !IE]> <![endif]>

ION S.A. Cocoa and Chocolate Manufacturers
El. Venizelou, N. Faliro 69
185 47 Piraeus
Greece
List of Products
This exhibitor shows the following products and commodity groups:

Company & products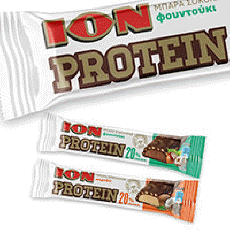 PROTEIN BARS: New range of chocolate candy bars by ION
ION S.A. Cocoa and Chocolate Manufacturers was founded in 1930 and is the only "from bean to bar" Greek company. ION has launched in the market a brand new and innovative product range:

ION Protein bars: With Hazelnut nougat and the with Coconut nougat.
The chocolate covering the new bars is the all time classic, ION milk chocolate, which has 100% cocoa butter. Both these two new candy bars combine the pleasure of enjoying an excellent taste of chocolate with extra nutritional benefits
.
• The pleasure of the chocolate taste:
- Rich Milk Chocolate bar with Hazelnut filling and Crispies
- Rich Milk Chocolate bar with Coconut filling and Crispies
• The nutritional benefits:
- High Protein content (20%) which means that the product is a Protein "Source".
- Protein contributes to the maintenance of bones and the maintenance and growth of the muscle mass.
- The Proteins used for the production of the ION Protein Bars come from the finest quality raw materials. They are of vegetable and milk products origin and they have a high nutritional value.
The new protein range, ION Protein bars, offers the consumer a functional confectionery choice and at the same time, is a very savory snack with rich taste of milk chocolate coupled by the flavor of hazelnut and/or coconut.