<![if !IE]> <![endif]>
Chocolaterie GUYLIAN
Europark-Oost 1
9100 Sint-Niklaas
Belgium
List of Products
This exhibitor shows the following products and commodity groups:

Trend subjects
Fair trade
Halal
Impulse packages
Kosher
Limited edition
Sugar free
Vegetarian

Target and sales markets
Asia
Australia
Brazil
Canada
China
Colombia
Europe
India
Japan
Mexico
Middle East
New Zealand
North Africa
Northern Europe
Oceania
Others Central America
Others Eastern Europe
Others South America
Russia
South East Asia
Southern Europe
The Americas
Turkey
USA
Western Europe

Company & products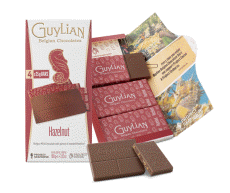 Guylian new 4 x 25g Belgian Chocolate Bars for everyday indulgence
Over 50 years ago, Chocolatier Guy Foubert and his wife Liliane brought their names and their love of Belgian Chocolate together. Out of love, they created Guy-Lian and the iconic Chocolate Sea Shells.
Today, Guylian's Master Chocolatiers have created a new product range, out of love for sustainable cocoa: a selection of eight different (4 x 25g) Guylian Belgian Chocolate Bars. Each of the Mini Chocolate Bars is embellished with the iconic Guylian Sea Horse, and individually wrapped for your convenience and enjoyment. Explore a variety of flavours: from hazelnut to creamy milk and premium dark or from salted caramel to fruity raspberry and rice crisp. The range also features two products with reduced sugar content.
Every time you buy Guylian's Belgian Chocolate Bars, you are supporting both Project Seahorse, which aims to save seahorses and our oceans, and Project Cocoa, which supports cocoa farmers.