<![if !IE]> <![endif]>
Gut Springenheide GmbH
Weiner 152
48607 Ochtrup
Germany
+49 25531022

+49 2553 1025

List of Products
This exhibitor shows the following products and commodity groups:

Trend subjects
Handcrafted products/Artisan

Target and sales markets
Australia
Canada
China
Japan
Middle East
New Zealand
Northern Europe
Others Eastern Europe
South Africa
Southern Europe
USA
Western Europe

Company & products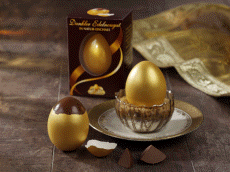 Dark Praline Chocolate in Natural Eggshell
For lovers of dark chocolate, Gut Springenheide has created a very special filling for natural eggshells. Dark Praline Chocolate- a delicious speciality made from exquisite ingredients, carefully refined- results in a unique pleasure experience. A harmonious composition, fine bitter chocolatey- an infinitely delicately melt-in-the-mouth nobody should miss. Exclusively packaged in the noble chocolate-coloured single egg packaging. The golden design of the Praline Chocolate Egg comes into its own here.